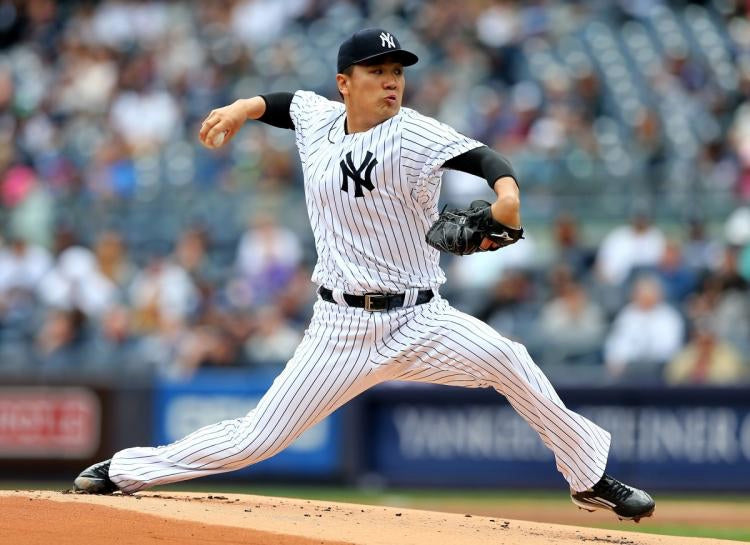 Yankees Rookie Pitcher Tanaka on Road to Pitching Recovery
Baseball pitchers, more than most other athletes, are dependent on the workings of a few joints and muscles in order to perform their job well. Thus an injury anywhere on a pitcher's elbow or shoulder can stall his entire career. Yankees star Masahiro Tanaka, age 26, knows this all too well, as he is working hard to recover from a partial tear of his ulnar collateral ligament. Fortunately for the right-hander and the Yankee's legion of fans, Tanaka had a great 35-pitch showing in a simulated game-style batting practice.
The Yankees have long had high hopes for Tanaka, who has been off the mound and on the disabled list since July 9th. The Japanese pitcher had been on the radars of many Major League Baseball teams for the entire 2013 season, which he played in the Japanese NPB league. In January of 2014, Tanaka signed a seven-year, $155 million deal with the Yankees, acquiring both a great deal of money and weighty expectations from baseball's premier franchise.
Yankees manager Joe Girardi is optimistic for Tanaka's chances of a quick recovery. "He feels good and he'll continue to move ahead," Girardi said. However, the Yankees' skipper was not quite ready to predict a date for Tanaka's recovery, saying, "I don't do that. I think you have to go start-by-start, basically. You can call Thursday whatever you want; we'll treat it like a start in a sense. He'll throw, he'll sit down, he'll throw. But we'll just take it start-by-start."
Yankees pitching coach Larry Rothschild also expressed optimism for Tanaka's chances of a speedy return. "I thought it was good, for the time he's had off," Tanaka said. "As he pitches and gets on the mound more, he's going to feel sharper and get more comfortable."
The Yankees need Tanaka's services now more than ever. At a record of 68-62, the Yankees are embroiled in a tight race for the American League's two wild card spots. With only a bit over a month left of the MLB regular season, the pressure is high on the Yankees, who currently stand three games behind both the Seattle Mariners and the Detroit Tigers. Any help they can get on the mound is appreciated, as the Yankees are allowing far more runs (546 for the season) than either Oakland or Seattle, the two teams currently in the driver's seat for the final AL playoff spot.
Not all baseball enthusiasts are able to take in pitches from Masahiro Tanaka on a daily basis. But no matter who you are, you shouldn't have to waste time chasing the ball every time you practice hitting! With Wheelhouse Batting Cages, you can stop chasing the ball. Find out more today!