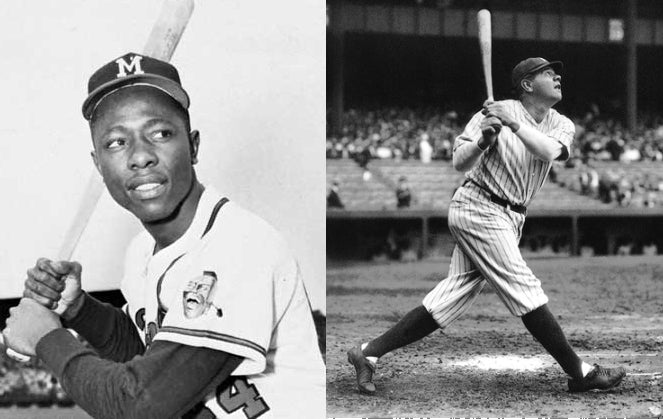 Baseball's Home Run Kings
The most prized statistical feat in baseball is the home run—nothing else gets the fans, players, and sportscasters so excited as a ball knocked out of the park! Baseball's history is full of notable home-run feats and climactic chases to break records. Here are a few of the most-heralded moments in Major League Baseball's home run history:
-The late greats: Babe Ruth, Roger Maris, and Hank Aaron. Before the 1990s and 2000s, when power hitting took the Major Leagues by storm, these two set baseball's most coveted home run records.
Babe Ruth, also known as "The Bambino" and "The Sultan of Swat," is arguably the most legendary power hitter in all of baseball history. By the time of his retirement from Major League Baseball in 1935, Ruth had notched records, at the time, of 714 career home runs, a .690 slugging percentage, 2213 RBIs (runs batted in), and 59 home runs in a single season.
Ruth's home run record was ultimately broken by Hank Aaron, a 21-time MLB All-Star who racked up 755 home runs in his illustrious career.
In the 1961 season, Roger Maris broke Ruth's single-season home run record, notching 61 for the New York Yankees. Maris' record would stand for decades, until…
-The 1998 single-season home run record chase. Though the late 90s and early 2000s are well-known for the controversy regarding performance-enhancing drug use in baseball, some of the game's greatest home run hitters featured in this era as well.
In 1998, the St. Louis Cardinals' Mark McGwire and the Chicago Cubs' Sammy Sosa both took off at a breakneck pace toward Maris' single-season home run record. Both players continued racking up home runs throughout the season, leading to massive media coverage of the chase and an increased worldwide interest in baseball.
In the end, both players broke Maris' record, but it was McGwire who finished with the new record, with 70 home runs. Sosa finished with 66.
-Barry Bonds' pursuit of the home run records, mid-2000s. Pittsburgh Pirates and San Francisco Giants slugger Barry Bonds erased many long-standing home run records during his career, though his accomplishments are also shrouded in steroid-era controversy. In 2001, Bonds smashed McGwire's single-season home run record, racking up 73 homers, and by the time of his retirement in 2007, Bonds had broken Aaron's career home run record with a total of 762.
If you want to hit like the pros, practice like the pros! And why should you have to chase the ball in batting practice? You don't with a batting cage and pitching machine from Wheelhouse Batting Cages—find out more today!