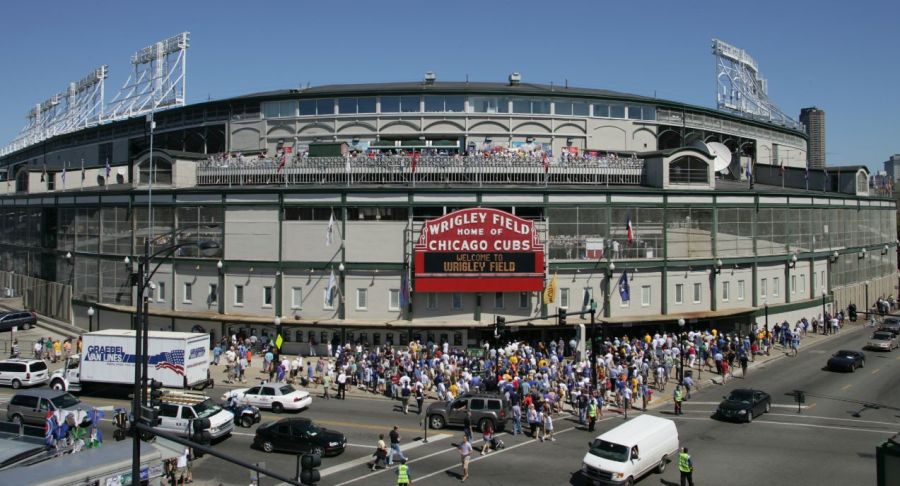 Happy 100th Birthday to Wrigley Field
On April 23rd, 1914, Wrigley Field opened its doors for the first time for the Chicago Cubs' home opener that year. Known then by a different name, the stadium that we now know as Wrigley would later become one of the most historic Major League Baseball venues in the country. Wrigley Field is the second oldest ballpark in the league, and this year the Cubs will be celebrating the 100th anniversary of their famous home field.
Second in age only to Fenway Park (erected in 1912), Wrigley Field is a favorite Chicago destination for baseball fans and history buffs alike. Both of these venues are celebrated for the unique cultures in their immediate surrounding neighborhoods. Also like Fenway, some of the most endearing qualities of Wrigley Field are directly related to parks age.
The outfield walls are famously characterized by their decades-old overgrowth of ivy. While fans have come to known and love this stadium quirk, the foliage is often the curse of visiting outfielders who can become frustratingly entangled when attempting to make a catch at the wall. (Compare this to Boston's cult love of the Green Monster, despite the headache it can be known to cause for robbing hitters of what would otherwise be a homer in other ballparks).
Another favorite historic cornerstone of Chicago's "Friendly Confines" is its vintage scoreboard with its entirely manual operation. One hundred years after opening its doors, the stadium has yet to make the switch to digital to bring its scorekeeping up to speed with its 21st century counterparts. At this point, perhaps we can count on Wrigley's scoreboard to be analog forever.
Wrigley Field is a famous attraction, for the baseball, the history, and even for its numerous appearances in pop culture. But this famous stadium is more than just a tourist trap; it is also the key feature that has made the surrounding neighborhood feel like home for generations of Chicagoans. Residents of Wrigleyville have grown up with the Cubs playing ball in their backyard for one hundred years, and they wouldn't have it any other way.
A 53-year-old Wrigleyville native recalls how having the Cubs playing nearby always inspired her love of baseball, even when she was told she couldn't play Little League as a little girl.
"I was born and raised around the ballpark. I attended school blocks away from the ballpark, and today my kids go to school blocks from the ballpark and my office is near Wrigley," she said. "It was really magical living around Wrigley field. It was - and is - always home."
A very Happy Birthday to you, Wrigley Field, and here's to 100 more!